The Shakespeare Ensemble
The Shakespeare Ensemble is an international, collective of multi-disciplinary artists. We spend our time adapting rehearsal methods from Shakespeare's time to raise our shows in 3-5 days. Communication of heart is craft.
We seek to engage with communities and audiences – regardless of language – with urgency, immediacy, and energy. Our fuel is reworked and reimagined methods Shakespeare's actors used, to make simple, powerful theatre.
We think vibrant, dynamic storytelling is this: actors speaking passionately, playing in a great space, with a listening audience.
Shakespeare's company were said to have 40 plays in their repertoire, and would raise their shows with less than a day's rehearsal. We put this to the test in our own practice and experiment with similar time frames. How could Shakespeare's actors have raised their shows so quickly? Continual daily practice, for much of their lives.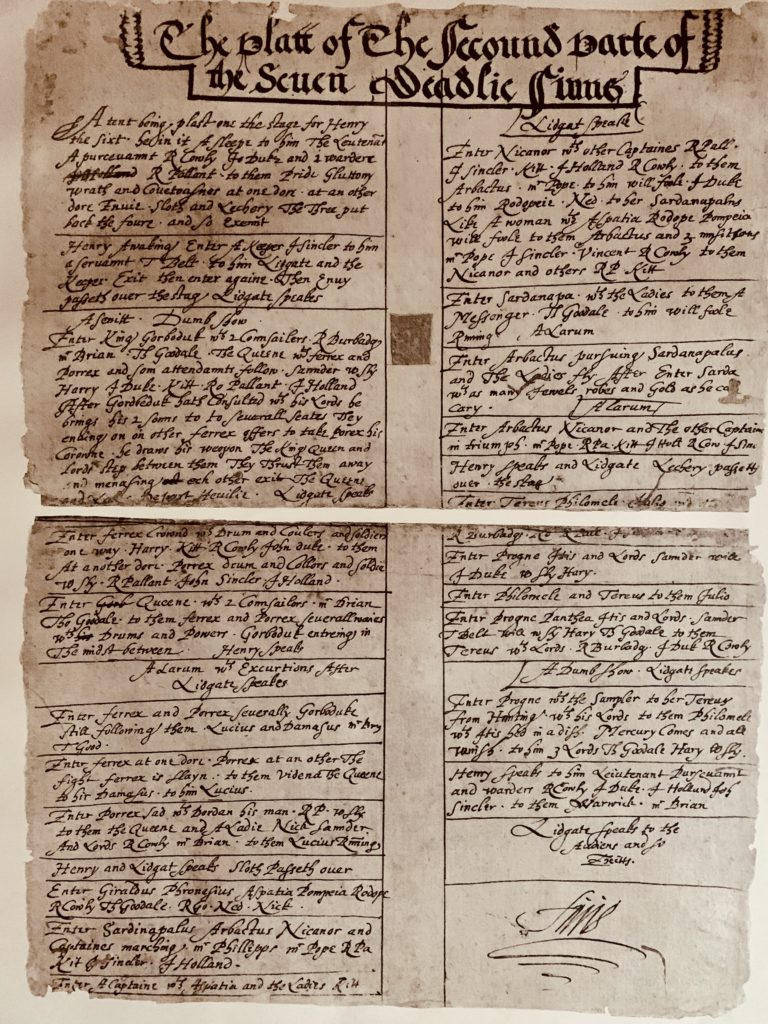 We adapt rehearsal methods from Shakespeare's time – looking at how acting companies made Platts (like a set-list) detailing the order of scenes, action, and music, to hang back stage; how they cut their shows; and how actors prepared only their lines using cue-scripts.
Coming together once a year for a week or two, the Shakespeare Ensemble plays together, developing exercises to sharpen our listening muscles.
In August 2018 we adapted A Midsummer Night's Dream into Dreame, an immersive promenade indoor-outdoor-indoor performance that ended in a feast, for a small Welsh community, raising the show in 5 days. In autumn 2019 our tour of Japan took the experiment further, raising 3 plays in 7 days.
With the tour of Japan we stepped closer to the kind of working dynamic Shakespeare's actors shared. We played in a different type of space for every performance, shifting between outdoor, indoor, proscenium, traverse, the round, and promenade.
Thrumming similar strings to Shakespeare's company, we use few props, no set, no costume, no shoes… Shakespeare's actors probably had shoes.
We wear our own clothes, and in Japan explored using silk scarves instead of costume changes for character doubling, a dagger, a crowns and three puppet heads, created by Helen Foan, together with adaptations of the accent & gestures of Shakespeare's time, to hold our play for non-English speakers.
We adapt original practice methods – of accent, gesture, cue-scripts and improvised movement – and agree that rehearsal time is for play, and to establish the dances and the fights – the complicated bits.
We learn the words, the cues, and we train ourselves to listen to each other, and to the spaces we're invited to play in, gearing up to our listening muscles for the audience, the most playful member of the Ensemble we haven't met yet.
We hail from India, New Zealand, Norway, Austria, Holland, America, Canada, and Japan, and fold our artists' first languages into our performances.
We make contemporary living theatre, using Shakespeare.

Members of The Ensemble 2018-2019
Dan Beaulieu is the Co-Founder and Artistic Director of Seven Stages Shakespeare Company, as well as the co-host of the podcast No Holds Bard. He lives in Portsmouth, New Hampshire.
Matthew Bentley is a director, actor, and producer, He currently lives in New York, USA.
Andrew Codispoti is an actor-director-poet-playwright. Artistic Director of Advice to the Players '16 & '17, and a long-term company member with 7Stages Shakespeare, New Art Theatre, The Barnstormers Theatre.
Joy Colango is an artist and lives in Monterey, CA.
Jules Cooper is a Wild Crafter and Hedgewitch, and lives in Anglesey, North Wales.
Ben Crystal is an actor, producer, writer, and adventurer-practitioner of Shakespeare, and curates the Ensemble. He lives in Wales.
Drew Ernhout is an American actor from Reno, Nevada, and currently lives in Tachikawa, Tokyo. He has worked and played in modern original practices of Shakespeare since 2011.
Helen Foan is a puppet designer, maker, and director, and one half of Foan and Fortune. She lives in London.
Rob Gander is a professor at the University of Nevada, Reno, and has directed around the world. With the Shakespeare Ensemble, he explores the function of director in a modern Shakespeare Ensemble. He and Ben have collaborated since 2011.
Sean Garratt is an actor, clown, puppeteer, deviser and creator. He splits his time between London and Chicago.
Dylan Kammerer is an actor, clown, and multi-instrumentalist, and has extensively explored Shakespeare's late Clown, moving through Twelfth Night, King Lear and Winter's Tale, a regular collaborator with Dan and Seven Stages Shakespeare. He lives in Brooklyn, New York.
Ariana Karp is an actor, director, educator and cellist currently living in New York. She is the Artistic director of the International Shakespeare Centre Santa Fe.
Jake Kemp is a workshop leader, chef, and general inspiration. He lives in London.
Hiroaki Kurata is a professional stand-up Manzai comedian, based in Tokyo.
Angela Hope Smith is an actor. She lives in New Hampshire, USA.
Tim Jacobs is an actor and company manager, and a long-term collaborator with Dan Beaulieu's Seven Stages Shakespeare Company. He lives in Brooklyn, New York, USA.
Amba-Suhasini Katoch Jhala is an actor, deviser, and teaching artist. She lives in Delhi, India.
Lionheart is a spoken word performance poet from London via Grenada
Calley Luman is an actor, artist and singer from New York, USA.
Rob Mennear is a choreographer from Cornwall, UK.
Anirudh Nair is an actor, director, producer, teaching artist, and practitioner. He specialises in physical theatre and the spoken word. He lives in Delhi, India.
Solmund Nystabakk is a world renowned Lute player, and expert on musical instrument original practices from the 17th century. He lives in Tromsø, Norway.
Professor David Crystal OBE, world authority on the English Language and master of Original Pronunciation
Matt Reznek is an actor and photographer. He lives in Vancouver, CA.
Tereza Vacková is an actor and artist. She lives in Prague, CZ.
Matthew Walsh is a funeral undertaker and singer, living in Holyhead, North Wales.
Antonia Weir is an actor, deviser, writer, musician, and producer from Somerset. She lives in London.
Suzie West is a choregrapher and teacher, with a MA in Community Engagement. She lives in Cornwall, UK.
Stuart Woodman is a forager, chef, and brewer from Cornwall, via Hertfordshire, UK.
You can read about the Ensemble's Lineage here.